About J&E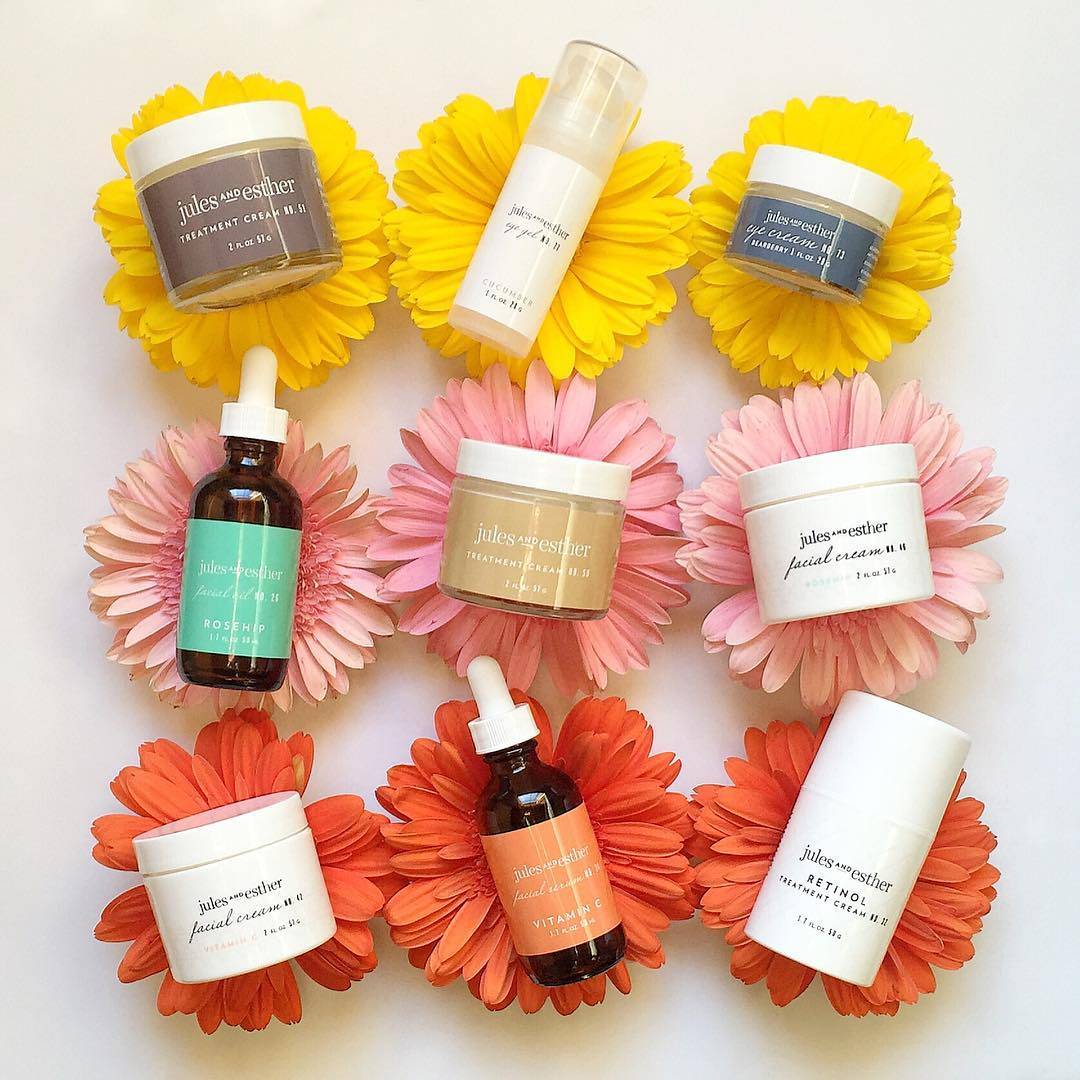 OUR MISSION
We believe that you shouldn't have to slather chemicals on your face and body to have better skin.
We are dedicated to producing skincare that is good for you, but still effective and luxurious. You can obtain the perfect skin you crave, with our line of products that harness the natural healing power and numerous benefits of nature's bounty. Our products are hand-crafted in small batches, and only scented by the delicious natural scents of the ingredients.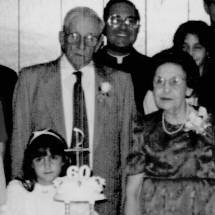 WHO ARE JULES AND ESTHER?
Jules & Esther are my (Maria's) maternal grandparents, J.N. (Jules Norval) Calais and Esther Dugas. That's them for their 60th wedding anniversary, right next to me rocking my 80s bangs and a sweet bow headband.

J.N. and Esther met in the early 1920s; he was a hard-working blue-collared teen and she was a wealthy socialite. Despite their different backgrounds, she began tutoring him and they quickly fell in love. Their marriage produced six children and a lifetime of happiness and joy.
Grandpa could always be found working in his garden, and from an early age he taught me how to value the goodness of what the earth had to offer. I have fond memories of helping him out in the garden--planting seeds, picking ripe produce, and braiding and hanging garlic. I also remember sneaking into grandma's bathroom and being enamored with all of her creams and lotions in their pretty packaging, giggling as I smeared on creams and patted on powders in her mirror. So when it came time to name my line, it only made sense to honor the two people who taught me the value of hard work, and who piqued my interest in nature and skin care.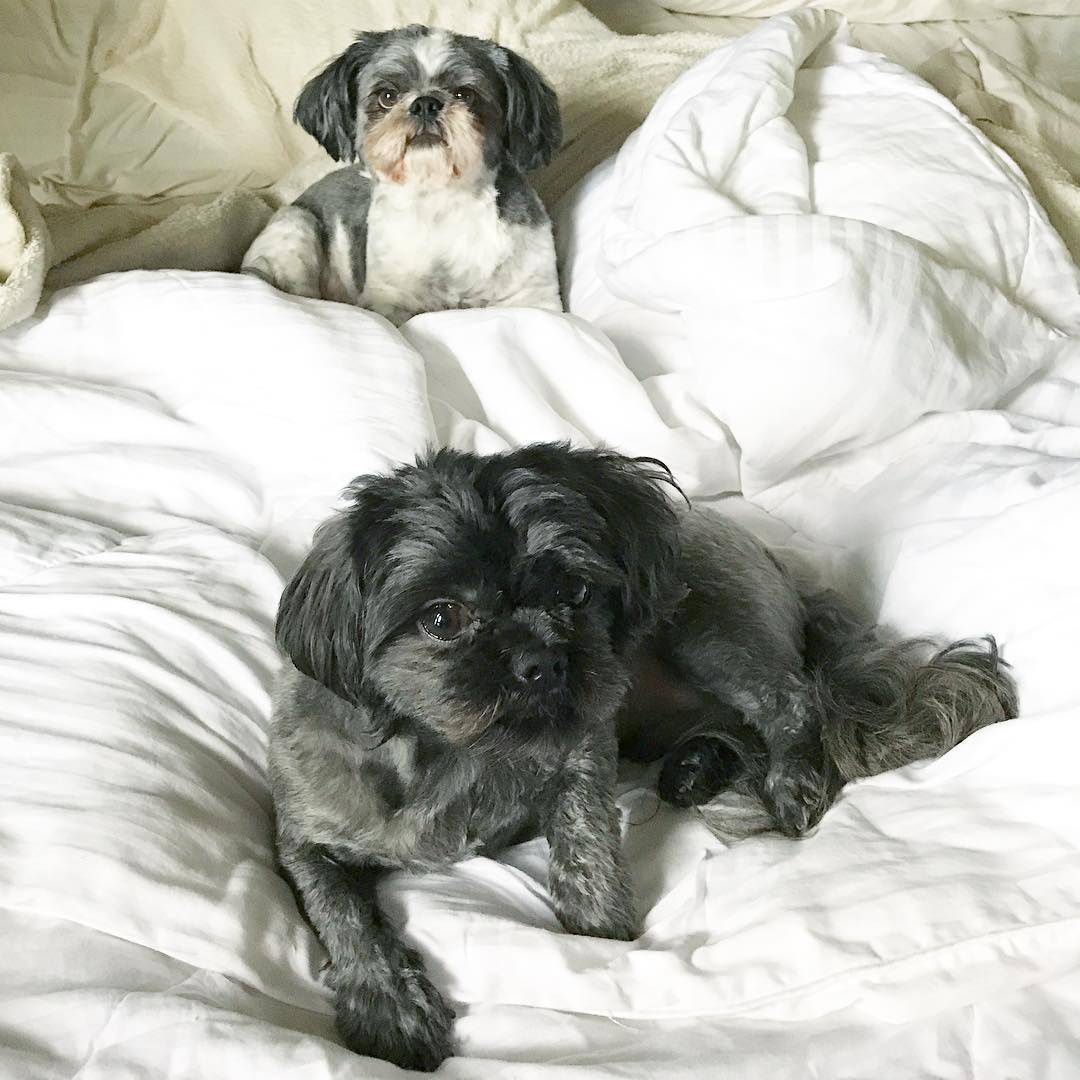 OUR VALUES
We love our furry friends (that's Baxter and Barkley up there, our spoiled rotten J&E furbabies) and do not, and will never, test on animals. Neither do our manufacturers and suppliers.
We use the finest in natural and organic ingredients that are good for you and good for your skin. We source from theabsolute best places we can find, with the most ethical practices.
GIVING BACK
It has always been a top priority of J&E to give back to our communities and the world. We donate, volunteer, and help out with numerous charitable organizations locally, nationally, and around the world; to keep up with news of our latest endeavors and giving, check out our Facebook page and blog .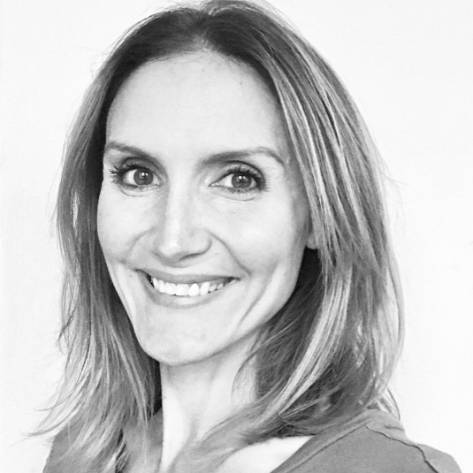 MEET MARIA
Hi, I'm Maria, J&E founder! My skin has always been an issue. Whether acne in high school, facial eczema in college, or pesky wrinkles now that I'm in my mid-30s (hello, crow's feet), it seems I have always battled with finding the right things to put on my face. When traditional medications and skincare didn't work for me, out of frustration I started concocting my own remedies from scratch. At the time, my sister was dying of breast cancer and was successfully using natural remedies to combat side effects from chemo, so I began studying herbal medicine and saw a drastic difference in my skin after changing my products. That led to me creating a line that boasts effective ingredients blended with sophisticated formulations that are powered by natural derivatives. I'm excited to share my passion with you, and hope that we can play a part in getting your skin exactly the way you've always dreamed of.